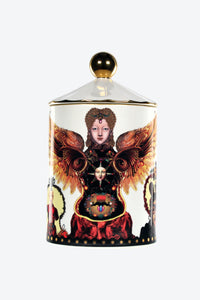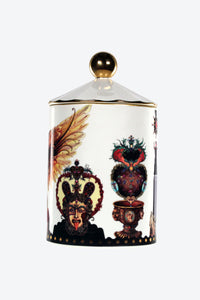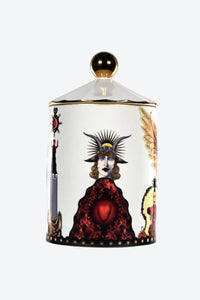 Smells Like Spells
SCENTED CANDLE FAR EASTERN INCANTATIONS (L)
We created this collection of scented candles inspired by incantation texts from different parts of the world. Having collected a large collection of texts, we entrusted their interpretation to probably the most famous Lithuanian silkscreen artist M. P. Vilutis.
Incantation texts interpretated by M.P. Vilutis are like a unstoppable kaleidoscope of magical symbols adorning the handmade porcelain jars, each of which is marked with a unique authenticity number, which contains number of art piece, quantity of prints in a batch and number of the batch.
N.B. Incantations collection candles will be poured specially for you, so the crafting time for this collection will take up to 5-10 working days.
| | |
| --- | --- |
| Weight | 11 kg |
| Dimensions | 24 × 24 × 39 cm |
The word incantations come from the Latin incantare, which means "to consecrate with spells, to charm, to bewitch, to ensorcel", forms the basis of the word "enchant", with deep linguistic roots going back to the Proto-Indo-European. An incantation is a magical formula intended to attract magic powers into our life. The formula can be spoken, sung or chanted. Words of incantation are often spoken with inflection and emphasis on the words being said. The tone and rhyme of how the words are spoken and the placement of words used in the formula may differ depending on the desired outcome of the magical effect.
Every candle detail is connected with the four main elements: wax – Earth, melted wax – Water, fragrance – Air and obviously Fire. That's why every enchantment, magic ritual or spell is accompanied by candlelight. It is believed that the proper choice of color, fragrance, or magical symbols, incantations texts could attract additional magical powers into our daily routine. The magic fragrance of this candle is based on old customs, traditions and the belief that every plant or aroma has its own magical purpose. It is like a witch recipe, where each plant and its aroma have a very important aromatherapic and magic function. The main notes supplement each other with aromatherapic properties and create a high-end fragrance pyramid where each scent has its place in harmony with other aromas.
Indian incense:  this authentic incense is produced from the blossoms of a holy tree. In India it is called "nagakesara", "nag champa" or the tree of "cobra's saffron". In Ayurvedic medicine extracts from this plant's blossoms, seeds, leaves and bark have been used since ancient times. Nagakesara or nag champa trees grow in many locations from southern Himalaya slopes to Sri Lanka and Andaman Islands. Mesua or the ironwood is an average-sized tree with exceptionally hard wood and fragrant blossoms. The most subtle incense is made from the blossoms of the nag champa tree, which symbolize sexuality, fertility, passion and love. 
Frankincense: the plant was named after the French word "franc", meaning "luxurious". Frankincense has long been used for producing incense. Frankincense (Boswellia) incense was one of the presents of the Three Kings to baby Jesus. In Ancient Greece frankincense resin was burned on altars and in temples, because it slows down and deepens breathing, which helps to calm down and immerse in prayer and meditation. The smell of frankincense calms and soothes, it is used during meditations even today.
Sandalwood: its aroma harmonizes and calms, helps to reduce stress and turmoil, is a perfect mood booster for people suffering from depression, fears, and everyday problems, helps in cases of nervous breakdown or anxiety. Eastern cultures believe that this aroma is particularly attractive to various deities, thus sandalwood incense is often used during meditation, sandalwood is used to build temples and sculptures of gods and prophets.
Opium: the scent is cold, resinous, acidic and bitter, energizes and raises alertness. It awakens consciousness, induces conscious dreaming, creates a connection with one's ow subconsciousness, evokes and pulls up the most secret thoughts, helps to understand deep problems by revealing them, helps to analyze causes and effects of various events and situations.
Warning: May cause long lasting harmful effects to aquatic life. Keep out of reach of children. Avoid release to the environment. Dispose of the container in accordance with national regulations.
Ingredients: Citronellol, Coumarin, Pelargonium graveolens (Geranium oil) and Boisvelone.