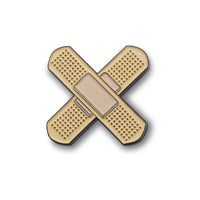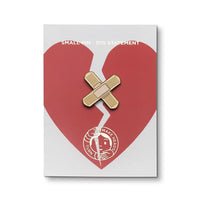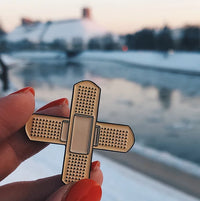 TFH Koncept
Enamel Pin "Plaster"
Being kids, when you'd fall and scrape your knee, wasn't it so much cooler to add two plasters instead of one? Now as we get older, we fall less but get our hearts broken more. So we made this pin to wear on our chests to never forget that this beating heart of ours is strong enough to live on its own. 
Those broken but still beating hearts need to be healed and protected - the things you don't deal with now will resurface again in a different context. Unhealed issues don't disappear with time. Nothing ever goes away until it teaches us what we need to know. So this plaster is your everyday reminder to give some time to yourself and heal, learn more about yourself and grow from there. We're on your side! 
Give this gift to every closest broken heart, the ones who need reminding that there still is life with a broken heart. Either a friend, or parent, or younger sibling going through their first break-up - it's a subtle reminder that life goes on, and even this little heart will heal again! 
COMPOSITION: Brass and Colorful Enamel
SIZE: H: 3 cm, W: 3 cm
BACKING: Butterfly Clutch
PACKAGING: A custom design card, perfect for gifting