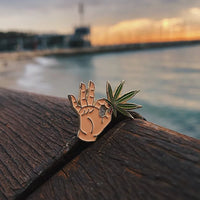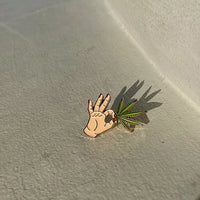 TFH Koncept
Enamel Pin "Cannabis"
A pin for change. Marijuana is frequently portrayed as the enemy of the people, where simply put, it's nothing but a plant with psychoactive traits. We believe that the more information there will be in connection with this herb and the entire industry, the more the public can be taught about how marijuana is much safer and has no weakening side effects, like those of both cigarettes and alcohol.
This pin becomes a symbol against constrainment and rules, a symbol to research more and learn more on your own and form the opinion that is true to you. It becomes a fight for knowledge in general than for the legalization itself. 
Show your support or show your love for the herb. 
To be worn on your jacket or your bag, or even your hat! 
COMPOSITION: Brass and Colorful Enamel
SIZE: H: 3 cm, W: 1.2 cm
BACKING: Butterfly Clutch
PACKAGING: A custom design card, perfect for gifting