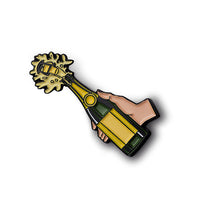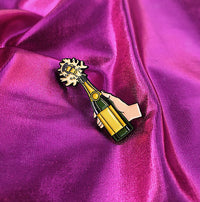 TFH Koncept
Enamel Pin "Champagne Pop"
Champagne is now not just tasty bubbles for special occasions, but it's become a symbol of celebration and happiness. This pin MUST bring a smile to your face and bring the celebratory mood even on a simple day. Show off the vacation spirit, or that you're ready to celebrate your perfect mood and life in general! 
It's also a perfect way to tell your friends that you're really up for that mimosa!
There may be days when you can't indulge in a flute of bubbles, or you've stopped indulging altogether, but who said you can't carry that mood around even at an official launch or on the way to get your driver's license with a pop of champagne on your lapel!  
COMPOSITION: Brass and Colorful Enamel

SIZE: H: 3 cm, W: 1.5 cm

BACKING: Butterfly Clutch

PACKAGING: A custom design card, perfect for gifting