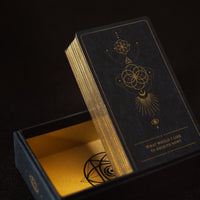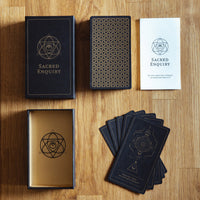 GEOMETRIA
Sacred Enquiry
What do you receive? 
Sacred Enquiry is not only a deck of cards designed with great attention to detail, but primarily a tool that will transform your every-day reality. These cards will introduce new qualities into your life. They will inspire unique conversations taking your relationships to a different level, they will allow you to get to know your partner better and will create a subtle encouragement to ask the most unusual questions. They will also teach you how to build a space filled with mutual acceptance and understanding. We have verified that numerous times, both ourselves and with our friends. 
This set contains:
78 cards with questions, screen printed on black paper of a basis weight of 320g/m2
suggestions of possible uses and a set of guidelines
a solid brick box, with the dimensions 15,2 x 9 x 4,5cm (the weight of the set is 0,33kg)
What makes these cards unique?
This product is of the highest quality, created with great attention to detail. Each card is made of thick black mass dyed paper of a basis of 320g/m2. The gold overprint done in silkscreen is resistant to wearing off. The edges are coated with gold. The cards are thick and durable. The whole set is packed in a solid brick box. They are perfect to use during workshops or as a tool during therapeutic sessions. Anyone who appreciates high quality products will enjoy using them. Sacred Enquiry is an excellent gift idea.
What is the delivery time?
Shipping to Poland will take approximately 2-3 working days. For every country it's different shipping time, but it shouldn't take longer than 9 days. If you would like the package to reach you sooner please contact us or pick up your package personally and visit us in Warsaw PL.

How to take care of these cards?
This product should remain in a dry place. The cards are not laminated, therefore they may react to changing weather conditions and humidity levels in the air. Don't allow them to get into contact with water.