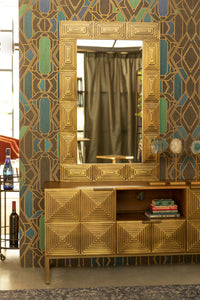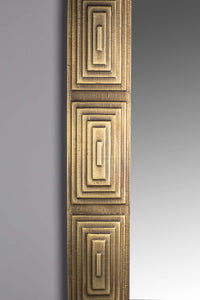 DUTCHBONE
Volan mirror
Volan mirror could be taken from the set of The Great Gatsby. As if Mr Gatsby himself checked his bowtie in its reflection. In reality, Volan mirror comes straight from the skilled hands of our craftsmen in India. There, woodworkers first cut the Art-Deco-inspired pattern into the wood. Then skilled artisans expertly hammer metal plates over the shapes. The result is simply stunning.
Specs

It's all about the details
Glass mirror
Antique brass plated MDF with natural lacquered finish
Dimensions: 110x4x70 cm (WxDxH)
Discover this beauty in your favourite Dutchbone shop this fall
Metal cladding is a very unique craft and made by hand in India. Therefore irregulates may occur.